New Automix Functionality for QOR Engines

Automix allows operators to balance the levels of on-air sources (microphones, phone hybrids, codecs, or music coming from the playout system) automatically and efficiently. When using multiple mics, the Automix function makes conversations sound better than ever by intelligently pulling down the levels when a person isn't speaking and resolving conflicts based on assigned priorities. Ultimately, Automix allows producers to spend less time thinking about their productions and more time thinking about their shows and the content that they want to produce.
Remote Operation Enhanced by Automix
The QOR-based consoles have a built-in, basic HTML interface that allows users to control their connected consoles (iQ, Radius, RAQ, and DESQ) remotely. Users can set the fader levels, bus assignments, and mic-processing parameters using a web browser. Although it is not designed for live-action mixing, using Automix alongside these basic remote-control abilities gives broadcasters better remote-broadcast usability during a time when they need it most.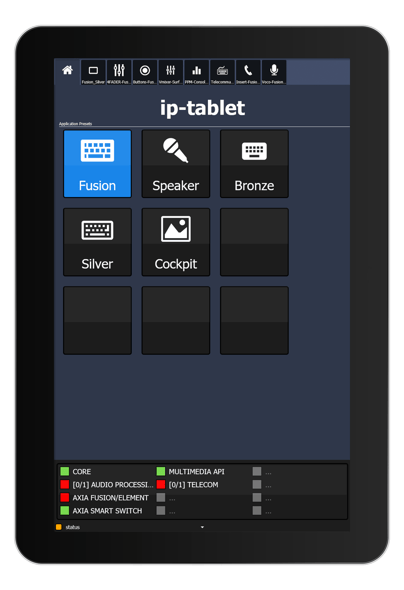 For increased virtual control and a powerful remote mixing experience, users can virtually control Axia iQ and Radius consoles using IP-Tablet Software with an added IP-Tablet QOR.32/16 license. With this, customers can customize their layouts and controls to fit their exact needs, choosing from one of the predesigned templates or customizing layouts through the simple drag-and-drop design interface.
To download the latest QOR Engine firmware, visit the corresponding product page at the Telos Alliance website. Or click the following links:
You'll find the downloads in the right hand column under "Software", along with the corresponding v2.4.0.3 update and release notes.